New to working remotely? As more teams are adjusting to a remote work policy, it can be difficult to carve out a defined space and work schedule. Here at Codelitt, we've mastered the art of working from home while balancing our home life. Here's our top 4 tips for maximizing your day, especially if you're new to the remote office:
Create your own space
It's hard to separate work from life, but setting aside a physical space will do wonders for your productivity. It not only gives you a designated area to focus, but helps you mentally differentiate between work time and personal time! This could be as simple as closing the door, or only using a specific space for work (and nothing else).
Need inspiration? Check out some of our team's awesome workspaces below: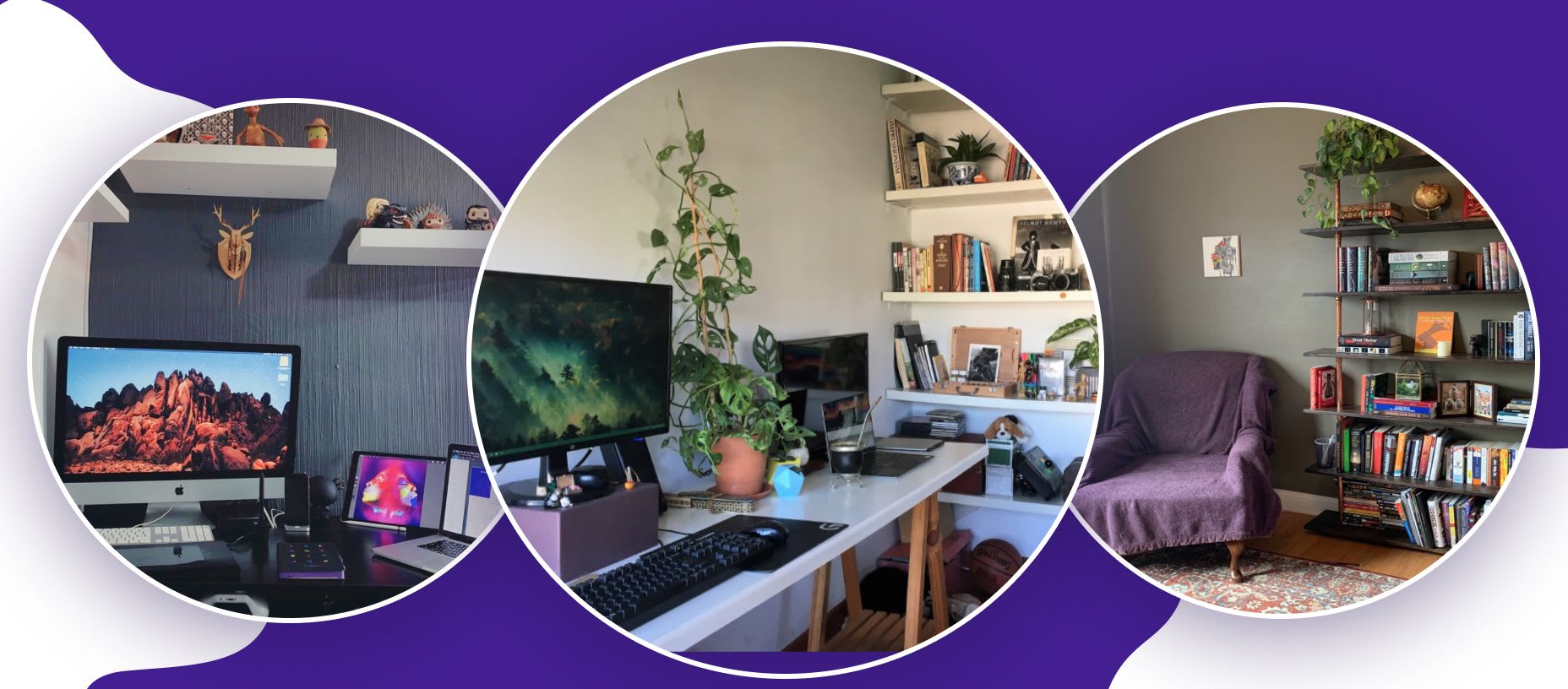 Embrace a routine
Now more than ever, the lines are blurred between work and home. To prevent this, embrace a regular work routine! Lay out your clothes for the next day, have your morning coffee, and "head to work" (or in this case, your desk, couch, dining room, etc). Preparing for the day and creating a routine around your work schedule gives you a sense of consistency.
Establish boundaries and normal working hours
Studies show that remote work can lead to burnout and anxiety, especially for those who are new to this type of work environment. There is a lot of autonomy in remote work, which can lead to some feeling the need to prove their productivity during the workweek.
While it can be difficult at first, make an effort to set boundaries and normal working hours - exactly as you would at a physical office.
Below are some steps to get you started:
Use Google Calendar to define your working hours. This prevents team members from scheduling meetings outside of your schedule.
Use Google Calendar / Clockwise to find best meeting times.  Setting up meetings for different time zones? Check out Google Cal's timezone feature! You'll be able to see the timezone for 3-4 areas at a time. Clockwise is also a great app for automatically blocking times that work best for you and your team!
Set your Slack to "Do Not Disturb." Like Google Cal, you can adjust your DND settings in Slack! Turn off your notifications so you don't receive messages until the next morning (i.e. "I'm only active from 8:30am - 5:30pm CST").
Remove your Slack / Email notifications from your phone. I know, this one seems radical but it works! Unless you're traveling for work (which let's face it, no one is right now), there's no need to have your phone + laptop constantly pinging you with notifications. Once I muted the apps on my phone, it was an instant anxiety reliever - out of sight, out of mind (or at least until the next day)!
You may be tempted to work longer hours, but establishing boundaries between your work and home life will minimize the potential for burnout in the long run!
Block your time effectively
At Codelitt, we encourage our team to block their time through Deep Work. Are you more productive in the afternoon? Schedule your meetings and e-mail checks in the morning and focus on your high priority tasks later in the day. More of an early bird? Block your deep work for the morning instead. Set up recurring hours in your calendar, or use an app like Clockwise to automatically optimize your calendar for you!
No matter what time of the day you schedule Deep Work, turn off your notifications and power through! Over time, you'll find that your day is more productive when you remove distractions and stay focused.
And there you have it! These are just some of the tips we recommend and encourage our team to follow. Any other suggestions we may have missed? Let us know!
If you'd like to learn about the rules that we have at Codelitt around working remotely, check out this in depth article that I wrote here!